COLD / STORAGE ROOMS
CORE
The thermo-insulating cold rooms and storage rooms panels CORE are composite, self-supporting structural elements, consisted of two profiled sheets bonded in an insulating rigid foam core of polyurethane (PUR) or polyisocyanurate (PIR).
They completely satisfy the European specifications that refer to the hygiene and protection of food in the areas of its production, storage and preservation.
Are conformed to the European Standard EN 14509: 2013 and are CE marked.

ECOPANEL FL is designed to meet the special needs and demands of areas for which they are destined. Are ideal for food production and processing areas, preservation and freezing areas, control atmosphere environments areas, laboratories etc.
Particular attention has been given to the design of their joints as well to the characteristics of their components such as the insulating core and the steel sheets and coatings as PVC-Food-Safe. The standard both faces are slightly shaped "standard" type or flat. The standard steel sheet thickness of both faces is 0.40mm - 0.45mm. The standard top coating on both faces is Polyester 25μm in 9002 RAL scale colour or PVC-Food-Safe, white color, non-toxic and suitable for contact with food. Under request are available variable steel sheet thickness, coatings and colours, according to the specific demands of the project.

---
Special features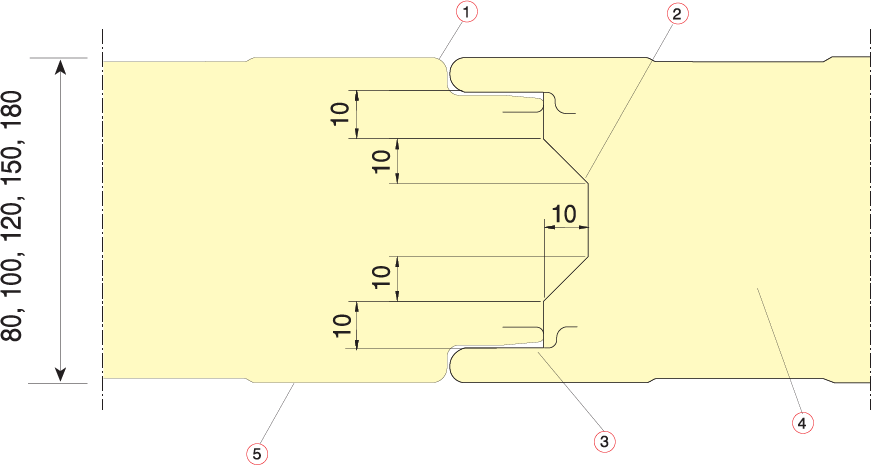 ---
Almost zero gap external joints suitable for highest standards of cleanliness in controlled environments.
Special shaping internal joints for high performance of jointing sealability.
Removable before installation paper strips in both sides of joint for a better foam contact.
Polyurethane foam core CFC Free & HCFC Free. Harmless to the environment and safest for the ozone layer.
Steel sheet shape slightly corrugated or flat in both sides, suitable for food processing rooms.
---
Panel Type
Outer sheet thickness
(mm)
Inner sheet thickness
(mm)
D
(mm)
Weight
(kg/m 2)
Heat transmission
coefficient
U (W/m 2K)
Max length
(m)
FL 80
0.45
0.45
80
8.99
0.15
16.0
16.0
FL 100
0.45
0.45
100
10.89
0.21
16.0
FL 120
0.45
0.45
120
11.65
0.18
16.0
FL 150
0.45
0.45
150
12.79
0.14
16.0
FL 180
0.45
0.45
180
13.93
0.12
16.0
Thermal conductivity "λ" = 0,02 W/m*K
Construction details