ROOF PANELS
CORE
The thermo-insulating roof panels CORE are composite, self-supporting structural elements, consisted of two profiled sheets bonded in an insulating rigid foam core of polyurethane (PUR) or polyisocyanurate (PIR). The outer face of the panels is made of galvanized and pre-painted steel of trapezoidal shape. The inner face of the panels is made either of galvanized and pre-painted steel, slightly formed or flat, or reinforced polyester sheet.
They are mainly used for building roof claddings but they can be used for façade claddings as well.
Are conformed to the European Standard EN 14509: 2013 and are CE marked.

ECOPANEL RL is the premium type of CORE roof panels. The outer face is of trapezoidal shape (four ribs) and the inner face is slightly shaped "standard" type or flat. The standard steel sheet thickness for the external face is 0.45mm and for the internal face is 0.40mm. The standard top coating on both faces is Polyester 25μm in RAL scale colours. Under request are available variable steel sheet thickness, coatings and colour, according to the specific demands of the building.

---
Special features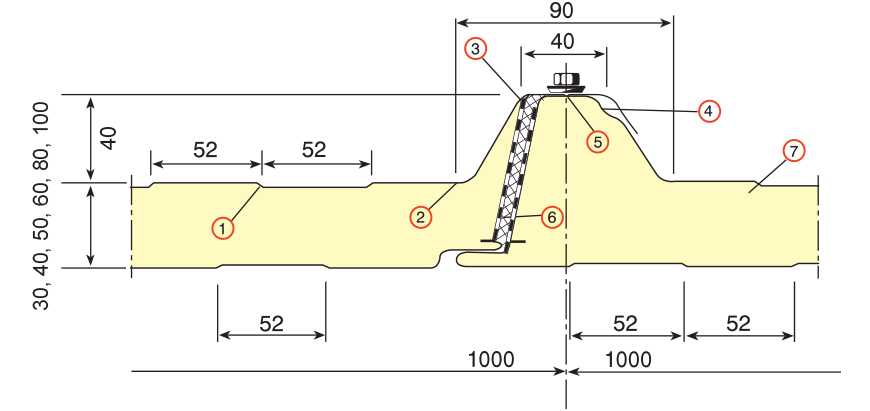 Broad valleys of the external sheet in order to make easy handling during mounting.
Large radi of bend, which is particularly advantageous for coating of only 25 Im.
Factory-fitted foam tape in the female side of overlap for a greater jointing sealability.
Groove in the longitudinal lap keeps surface water out.
Drilling grooves on the crown, which helps prevent the drill from slipping and thus, the accidental damage of the plastic coating.
Aluminium foil strip, which means less gas ascapes from the polyurethane cells thus ensuring good conductivity for longer.
Polyurethane foam core CFC Free & HCFC Free. Harmless to the environment and safe for the ozone layer.
---
Panel Type
Outer sheet thickness
(mm)
Inner sheet thickness
(mm)
D
(mm)
Weight
(kg/m 2)
Heat transmission
coefficient
U (W/m 2K)
Max length
(m)
RL 30
0.45
0.40
30
8.32
0.65
16.0
16.0
RL 40
0.45
0.40
40
8.70
0.50
16.0
RL 50
0.45
0.40
50
9.08
0.41
16.0
RL 60
0.45
0.40
60
9.46
0.35
16.0
RL 80
0.45
0.40
80
10.22
0.26
16.0
RL 100
0.45
0.40
100
10.98
0.21
16.0
Thermal conductivity "λ" = 0,02 W/m*K
EASYPANEL RL is the economical type of CORE roof panels with the same geometric characteristics as ECOPANEL RL.

AGROPANEL RL is the type of CORE roof panels specifically designed to cover farming facilities with a heavy indoor environment
---
Special features

Same external shape and steel quality as ECOPANEL RL
Internal surface made of glass forced polyester (GRP) flat sheet
Ideal for farmer facilities covering
Construction details